...So Everyone Can Have a Healthy and Beautiful Smile!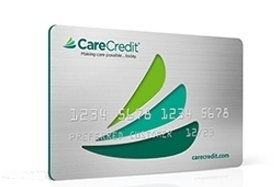 CareCredit® is a healthcare credit card that was designed specifically to pay for treatments and procedures that are not covered by insurance. When you use your CareCredit® card you are eligible for a No Interest (if paid within promotional period) or Low Fixed Interest Payment Plan. Through this service, millions of people nationwide are able to get the treatment(s) they want and need.
CareCredit® offers a variety of low minimum monthly payment plans for treatment fees as low as $1 to as high as $25,000. You can use it time and time again, when needed, without having to re-apply!
0% Financing Available On All Dental Procedures
The CareCredit® Advantages Are:
Begin treatment and pay overtime with low monthly payments
No annual fees
You can either apply online at CareCredit.com or call (800) 365-8295
Pay for treatment over 3, 6, or 12 Months with NO interest
As long as you pay the low minimum monthly payment each month when due, and the balance in full by the end of a 3-, 6-, or 12-month term, NO interest will be charged on your purchase.
Enjoy low minimum monthly payments with the 24-, 36-, 48-, or 60-month plans.
If you have treatment fees of $1,000 or more on you have 24, 36, and 48 months to pay, and for $2,500 or more you have 60 months to pay.
For more details go to
www.carecredit.com